The new JET class from Washington, DC departs for Tokyo next Saturday, August 3. To send them off right, we'll be posting a sneak peak at one of these brand new JET participants each day next week and we'll check back in with them throughout the year to see how JET is going. We're kicking things off today with a bonus profile since response was so great from our genki JETlings — just a little preview of a preview if you will. And be sure to come back next week to meet more of our new JETs and leave your own JET stories, advice and well wishes in the comments!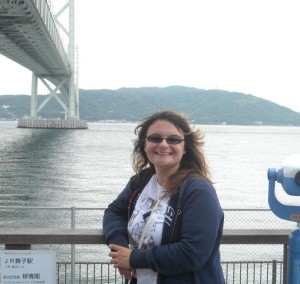 Name: Rose Tabaj
Nicknames: Rosie, Ro, Rosebud
JET Placement: Shizuoka-shi, Shizuoka
Where I'm from: Twinsburg, Ohio
What I studied and where: Japanese with minors in Business Administration & Multiage Education at the University of Mount Union
What you've been up to lately: Lately I have been working to save those final funds before the big move, spending time with my family and friends, and occasionally being overwhelmed with the new adventure in store for me
How did you learn about JET? At Mount Union, a lot of our students decide to further their career and love of Japanese by applying to the JET Program. Ever since I was a freshman, I have wanted to be a part of the JET Program. Many of my friends are JETs, and their positive experiences have encouraged me to have my own!
What are you most excited about? What I am excited about is also what I am most nervous about. All these new experiences in store for me in Japan are both exhilarating and overwhelming. I am looking forward to these new adventures as well as meeting new people and making new friends! However, at the same time, starting this new chapter in my life is more than a little daunting at times.
It's not practical, but I just had to pack my…books. Real, (sometimes hardback) books. I have a Kindle, and a wide variety of electronic books at my disposal, but nothing beats the turn of a page and the feel of a real book in your hand.
JETAADC, did you pack anything incredibly impractical, but totally worth it (or not…)? Make Rosie feel better about schlepping her book collection all the way to Shizuoka. (A book recommendation or two for a new JET might not be out of place either).
P.S. Looking for a good summer read? Check out Let's Talk Japan's recommendations!