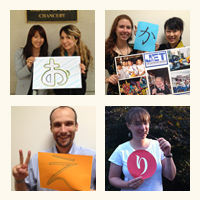 Welcome new JET Alumni! We are really excited that you're here in Washington, DC and looking forward to meeting you at some of our upcoming events, designed with you in mind! JETAADC is the oldest, and among the most active JET Alumni chapters in the U.S. We have about two to three events per month, ranging from monthly networking events (join us on Wednesday, Oct 2!) to a bonenkai in December.There are lots of ways to contribute, even if you don't live right in the heart of the nation's capital: for example, we're actively looking for recent returnees to contribute to our blog. I suggest you start with taking a look at our returners' handbook, Okaeri, here on our website for useful information on both assimilating back to "American life" here in Washington, and the many ways to keep Japan close at heart and in your life.
It all starts by signing up for our Google Group, joining our Facebook group, and following us on Twitter! Keep an eye out for information on our Career Panel and Welcome Back Reception in November – a full day seminar to help with your transition to Washington.
Please feel free to reach out if you are interested in getting involved in JETAADC Board, or if you have questions about our events and activities.
Welcome and okaeri from the JETAADC Board!
[slideshow]