In an effort to better know our members both new and old, we'll be posting a brief introduction to one lucky JETAADC member each month. If you'd like to be featured as our Member of the Month, please contact Kat Kovacs (newsletter@jetaadc.org) or David Baasch (david@jetaadc.org).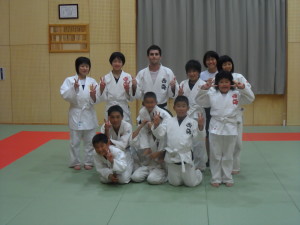 Name: Adrien Joel Golocovsky
Nickname: Ado, Adorian, Dorian
JET placement: Nagaskai-ken, Saikai-city
Hometown: Maryland
What brought me to DC: I grew up in the area.
What I miss most from Japan:
The conbinis and my favorite kaiten –zushi place. I miss stacking up all those plates.
The game my classes always went totally crazy for:
Any game that had them running up to the board against their friends.
The funniest story from my time on JET (that's fit to print!):
Funniest story was when I was asked by a few teachers to be a body guard for a group of elementary 1st graders. A pack of wild monkeys was in the area so it was our duty to protect the children. I was handed a wooden sword to battle the monkeys and three other teachers and I walked the kids to their homes. Unfortunately or fortunately there was no human vs monkey battle that day.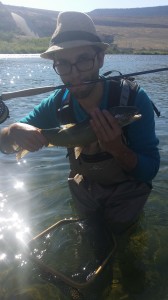 Where you'd find me on the perfect weekend:
Fly fishing in any river for trout.
The person I would choose to play me in a movie is:
Liam Neeson
 What Japanese word or phrase do you still find yourself saying in the US?:
Yoisho