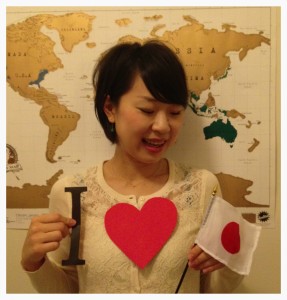 Yui Itokawa and Joel Zara, our current JETAADC Social Chair, met in Japan in 2008 while Yui was a JTE and Joel was on the JET Program in Chiba-ken. They now are married and living in Washington, DC where Yui works at the JET Office at the Japanese Embassy and contributes to our I <3 Japan series.
Hi there! This time I'm writing about some J-goods for I <3 Japan. I'm sure you found a lot of practical, useful, helpful, funny, interesting, and weird products during your time in Japan. Today I'd like to introduce some of my favorites I brought from Japan and hopefully you'll find them interesting!
1. This pen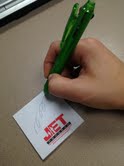 It looks just like another regular multi-color pen, however, you can actually erase the ink by rubbing it with the rubber part on the top of it. The ink is made with special micro capsules which can be erased when the heat generated by friction between the rubber top and ink gets to certain temperature.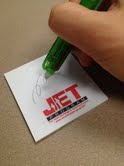 Jaaaan!See? it's gone!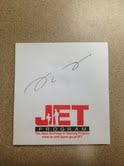 It's pretty amazing right?
Available in the US? ⇒Yes! Google "frixion pen" and, voila, you'll find it!
2. This onigiri case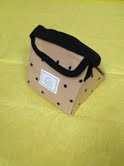 This is something I just fell in love at first sight with. As I am a big onigiri fan (who isn't?), I thought this was really kawaii AND very Japanese. You can put two konbini-size onigiri inside and take it to your work place/school in style, carrying it  in your hand.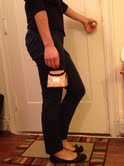 After you savor and feel happy eating your onigiri, you can actually fold up the case. It's super compactible.
Hmm, so space saving, so Japanese.
You can also find manly onigiri cases like this one.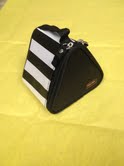 Available in the US? ⇒ I don't believe so. Check out LOFT or Tokyu Hands when you go to Japan next time!
3. This Yutapon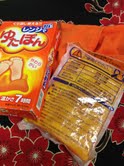 Do you know Yutanpo? It's an oval shaped water bottle which you put hot water in and wrap with a cloth cover in order to keep your cold futon nice and warm and cozy in winter. You remember how cold your apartment was in Japan in winter, right? Yutanpo is a great instant heating tool.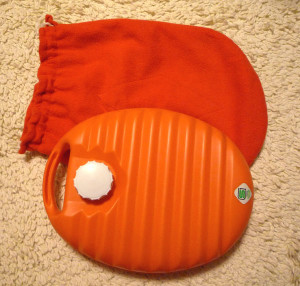 This Yutapon is a little different from the regular Yutanpo. You can MICROWAVE it!
Place the inner part and microwave for two minutes, and then, you'll have instant epic warmness…
Available in the US⇒I'm sure it's hard to find one but your might have some luck if you hit up every single Japanese store in the US.
4. This rice cooker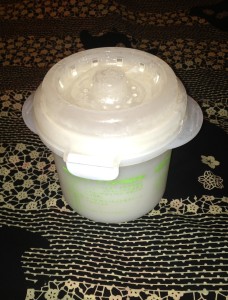 Japanese people like to microwave or in other words, we like to チン(chin) everything. Cooking rice is not an exception either; using this microwavable rice cooker you can get freshly cooked warm rice within 15 min. You don't have to wait an hour to have your rice cooked any more!
How to use:
It's quite easy, there are only 3 steps. 1) Wash rice, 2) add water and 3)チン(Chin)! for 10 min. Because the power voltage is different from Japan in the US, you might have to adjust power level on your microwave. I'd usually set power level 60 and cook for 10 minutes as written on the rice cooker.
For better result, you might want to wait an extra 10 minutes until the rice absorbs the steamed water. This waiting time makes your rice much fluffier.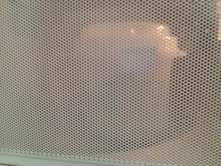 This is just a cooking tip: add some mochi rice when you cook regular rice to make your rice stickier and closer to Japanese rice. Rice found in the US in general is a little dry, mochi rice holds more water and it can make your rice infinitely more delicious.
Looks like my rice is done.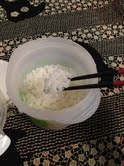 Mmmm, there's nothing better than freshly cooked rice. Nomnomnomnomnom.
Available in the US⇒ I am skeptical but maybe, maybe not.
Maybe I can make onigiri with this rice and put it in my onigiri case and take it into my futon where I have already thrown Yutapon in and eat it while scribbling with the frixion pen tonight. My Japanese night….
What J-Goods do you miss from your time on JET?