David spent his time on JET as an ALT in Shintotsukawa, Hokkaido from 2008-2013 before returning to his native Maryland.  He currently works for the Embassy of Japan in Washington, D.C.
Although it may be a little late to still be throwing around this greeting but I wanted to wish everyone in JETAADC a Happy New Year! Akemashite omedetou! Kotoshi mo yoroshiku onegai shimasu! (Or as some of my JHS students might say much to the chagrin of their teachers: Ake ome! Koto yoro!).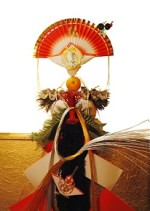 We are fully in the thick of 2015 (Twenty-fifteen? Two thousand fifteen?) aka Heisei 27 aka the Year of the Goat (Wood Goat for those keeping score at home) aka the year before 2016.
During my time as an ALT, instead of going home for the holidays, I spent my winter breaks in Japan and came to enjoy New Year's there. In the weeks before December 31st there were the bounenkai's, parties dedicated to forgetting all the bad stuff of the year, mostly through drinking and eating (and drinking). Then there were the myriad dishes to enjoy for New Year's Eve or Day (my favorite was ozoni, a soup with mochi); the receiving of nengajo (New Year's cards) from friends and colleagues; the many traditional activities like getting your fortune at a shrine or playing karuta; and if you were a bargain hunter, the big sales in the stores (and more drinking and eating (and drinking) if you went to the shin-nenkai, or "new year" parties). I realize I write with rose-colored glasses on because I never had to prepare hundreds of nengajo or attend 10-15 bounenkai/shin-nenkai parties or give o-toshi-dama (money gifts) to younger relatives.
Before I came to Japan, I knew that New Year's was important. I had heard of things like the hatsu-moude (first shrine/temple visit) orkaki-zome (first calligraphy) of the year. But then I heard about things like "first dream" and "first laugh" and realized that there are a lot of expressions that cover doing the "first" of anything in a new year. Here are a few that I learned and some other interesting ones:
Hatsu hinode (初日の出)– "first sunrise": It is the Land of the Rising Sun after all.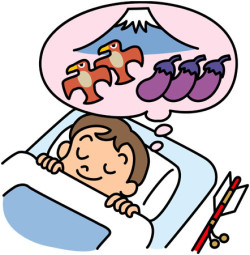 Hatsu yume (初夢)– "first dream": For best results and good luck, ensure dream includes the following: Mt. Fuji, a hawk, and an eggplant.
Hatsu warai (初笑い)– "first laugh": Gaki no Tsukai anyone?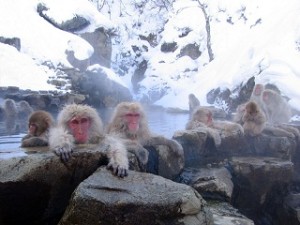 Hatsu buro (初風呂)– "first bath"
Hatsu uri & hatsu gai (初売り、初買い)– "first sale" & "first purchase"
Waka mizu (若水)– "first water (drawn from the well)": Ok, this one is really an ancient custom that is probably not practice. But the word itself is interesting meaning "young water."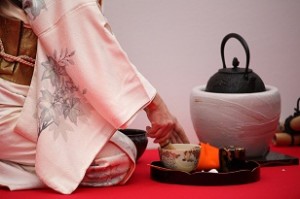 Hatsu kama (初釜)– "first tea ceremony"
Go-you hajime or shigoto hajime (御用始め、仕事始め) – "starting work again": This one is perhaps the least exciting of the "firsts."
*Most of these expressions include hatsu. While here I present them as "first time doing ~ in the new year", in general hatsu can be prefixed to many words to express "first time doing ~ (ever)" such as hatsu taimen (初対面 "first time meeting in person") and hatsu mimi (初耳literally "first ear" meaning "first time hearing [about ~]").
I hope that everyone in JETAA will have a great year that will be full of auspicious "firsts"!