September in Washington can be a little overwhelming: Summer is over (kind of depressing) – Congress is back in session (kind of busy) – and the social rhythm of Washingtonians starts to get back on track (frequent 3pm happy hours are replaced with 7pm receptions – kind of exciting).
Per my last point, the JETAADC Executive Committee was honored to receive invitations to two incredible receptions last month; the first with former American Ambassador to Japan, John Roos; the other with former Japanese Ambassador to the United States, Ichiro Fujisaki.
Both were held at the Japanese Ambassador's residence: if you haven't been there and live in Washington, make it a goal to do so at some point – it's worth the walk from the Tenleytown metro or $15 cab ride from Downtown. With a grand ballroom that overlooks a tranquil koi pond, it's easy to transport yourself back to Japan, albeit you'd feel more like you're in a museum than someone's home. The residence is perfectly decorated with Japanese art – both modern and traditional – and has a tea room that is open to the public during special events.
Although the reception with Ambassador Roos had a receiving line that took me about 30 minutes to get through, Ambassador Roos and his wife had great praise for the JET Program and the importance of JET Alumni in playing a role both in the United States but also Japan. He was quick to point out that a number of his staff and advisers at the American Embassy in Tokyo are affiliated to the JET Program, and as we've heard before, JET Alumni were instrumental in the aftermath of the 3/11 triple disaster. Along the way, I saw other JET Alumni in attendance and representing their employers – from Embassy staff and State Department Officials to non-profit staff dedicated to US-Japan issues.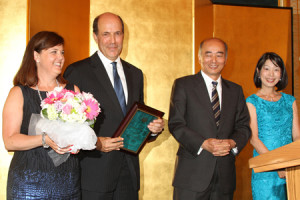 Ambassador Fujisaki's reception was held as part of his trip to the U.S. on behalf of a symposium between Georgetown and Sophia University. Ambassador Fujisaki's reception showcased our favorite former Ambassador doing exactly what he does best: connecting with people. Signature Fujisaki moves included small gifts for those willing to muster up the courage to engage the Ambassador in casual conversation about his post-political life, as well as a speech that involved both a mnemonic device and a list of 4-5 important points for the audience to remember. Later on in the same week, I met with Ambassador Fujisaki as part of a small group to discuss his new role as President of the America-Japan Society in Tokyo. It was with great pride that I could mention the number of JET Alumni in the United States as well as American JET Alumni in Tokyo. It reminds me that our connection to Japan doesn't end with the Returner's Conference or even when new jobs and new friends replace the ones we had in Japan. The "Exchange" in Japan Exchange and Teaching Programme is a critical element of U.S.-Japan public diplomacy. Thanks to Ambassador Fujisaki, I could realize this in a discussion where the involvement of JET Alumni are important members of other organizations, not just JETAA.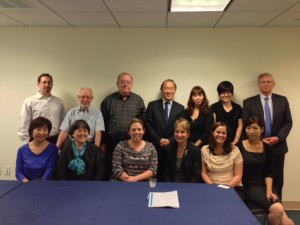 Upcoming events for the board: the JET Alumni Association's National Conference in Minneapolis, Minnesota; a meeting in early October with Tokyo's Superintendent of Education who is looking to play an important role in the continued development of the JET Program; in late October, JETAADC will also welcome a delegation of leaders from the Japan Local Government Center at the Hall of States; and in late October or early November, JETAADC will welcome this year's returnees in our annual Welcome Back Reception. As Washington begins to ramp up its 'gala-season,' we hope you'll find the time to come out to one of our social events and introduce yourself!