If you missed the Hitachi Newseum Event on August 1st, here is your chance to catch up on the event: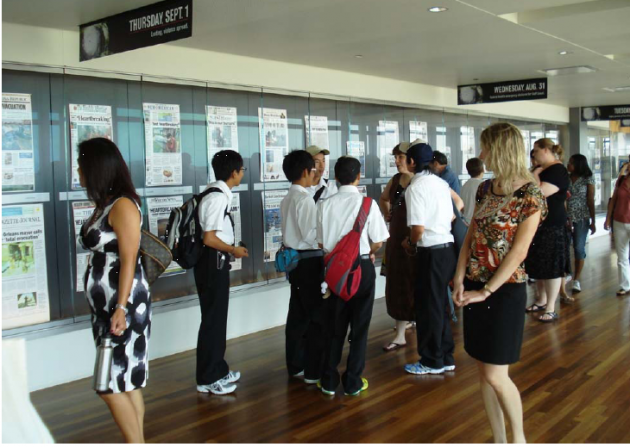 August 1st JETAADC members joined a student delegation from Hitachi City, Japan at the Newseum. Nineteen students and two teachers traveled to Washington, DC for a week filled with sightseeing and cultural exchange activities. The Newseum event included the 19 students and 2 teachers from Hitachi City, 4 employees of Hitachi's DC office, 7 JETAADC members, 5 WAC members, the CEPEX co-directors and the Japan Studies Award intern. The Japanese students, JET alumni and WAC students toured the Newseum together.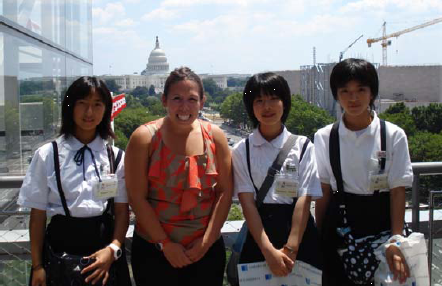 Afterwards, the Hitachi students gave presentations in English about their hometown of Hitachi-shi in Ibaraki and their hobbies. The students are very proud of the beautiful sakura and sakura matsuri in their city. Hitachi City's hilltop location provided refuge for victims of the March 11 earthquake and tsunami in the Tohoku region of Japan. Hitachi City, a city of almost 200,000 people, is located 60 miles from the Fukushima Dai-Ichi nuclear power station. When asked what they were doing when the earthquake struck, most of the students said they were studying, and others were listening to music, sleeping and helping parents. The students were selected from four or five junior high schools in Hitachi City. Many expressed an interest in science including black holes and the Kennedy Space Center. The students said they enjoyed their visits to the Smithsonian Natural History and Air and Space museums. When asked what surprised them the most, many students said the large size of American food.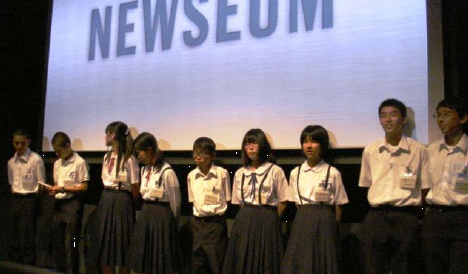 This cultural event was organized by Hitachi's DC office, CEPEX and JETAADC. Special thanks to Leigh Ann Mastrini, Shelby Coffey, the Newseum and APCO for their efforts to create a memorable experience for the students from Hitachi City.
JET Program Alumni, Prefecture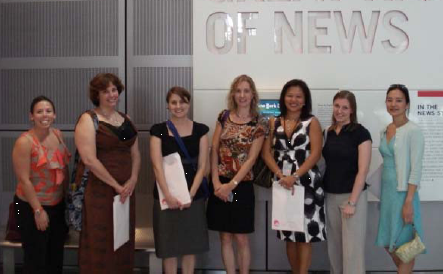 Leigh Ann Mastrini, Hyogo
Emily Prater, Hyogo
Christy Busch, Kumamoto
Michelle Pascucci
Diana Yu, Hyogo
Jessie Mannisto, Shiga
Nicole Lindsay, Ehime
(Not shown: Nick Harling, Mie)
World Affairs Council (WAC)
WAC members are all rising high school juniors from three schools in the metro DC area. The students experience a variety of international field trips including lectures at the World Bank and participation in Hitachi's afternoon of cultural exchange at the Newseum.
http://www.worldaffairsdc.org/
(L-R): Olivia, Michael, Christina and Amanda, Global Education Director. (Not pictured: Rachel)