April
Saturday, April 24th JETAADC members Shirong and Nikki joined over 7000 volunteers for Greater DC Cares 18th Annual Servathon.  Each year, volunteers are sent to over 100 service projects in the DC, Maryland and Virginia area.  Typical Servathon projects include painting lockers or walls in DC public schools, landscaping projects at area public libraries, picking up garbage in park areas, and creating school garden plots.  Greater DC Cares' Servathon volunteer event has grown in size and impact throughout the years.  Servathon connects engaged individuals to a powerful demonstration of community service that raises awareness and funds for volunteer projects throughout the year.
2009-2010 Volunteer Chair Naomi Basik arranged for the JETAADC team to volunteer at Marie Reed's Education Playworks Project.  Education Playworks is a national nonprofit organization that supports learning by providing safe, healthy and inclusive play and physical activity to schools at recess and throughout the entire school day.  Shirong and Nikki painted two four-square areas on the blacktop in bright vibrant colors.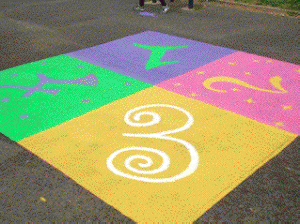 Finished four square area.
June
Saturday, June 5th JETAADC members Kathy Crutcher, Marc Dano, Nikki Lindsay, Mac Maloney, Justin Manger and Amanda Morken, participated in the Susan G. Komen Global Race for the Cure.  Special congratulations go to Kathy and Mac, the highest fundraisers on the team, and Justin, the team's fastest finisher.
The Susan G. Komen Global Race for the Cure is committed to ending breast cancer forever.  Up to 75% of the Komen Global Race's net income stays in the Washington, D.C. area to fund local screening, treatment and education programs for the medically underserved. The remainder supports the Susan G. Komen Global Promise Fund dedicated to reaching underserved people in areas where breast cancer mortality rates are the highest.  More than 40,000 people participated in the 21st running of the Susan G. Komen Global Race for the Cure® in Washington, D.C. and raised more than $4.5 million to fund breast cancer programs for women in need throughout the National Capital Area and abroad.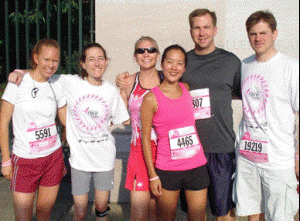 Pictured:  Kathy, FOJ, Amanda, Nikki, Justin and Mac.
July
July 18th, JETAADC volunteers joined Karma Kitchen's weekly Sunday experiment in paying kindness forward.  Karma Kitchen focuses on fostering a community and creating a gift economy through serving a vegetarian Indian meal.  Originally created in Berkeley, CA, Karma Kitchen's vision is meals cooked and served with love, and offered to the guest as a genuine gift. "To complete the full circle of giving and sustain this experiment, guests make contributions in the spirit of pay-it-forward to those who will come after them. In keeping this chain going, the generosity of both guests and volunteers helps to create a future that moves from transaction to trust, from self-oriented isolation to shared commitment and from fear of scarcity to celebration of abundance."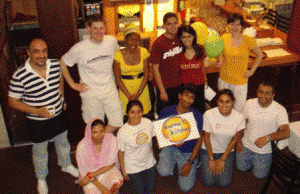 Amanda, Nikki, Mac and Shirong joined the Karma Kitchen volunteers at Polo India Club in Dupont Circle in serving tables, plating food, hosting and making drinks.  To learn more about Karma Kitchen please visit their website.
June-August
Throughout the summer, JETAADC conducted a book drive for Better World Books, which collects and sells books online. Books sold on Better World Books help fund high-impact literacy projects in the United States and around the world.  So far, the company has converted more than 35 million donated books into $7.5 million in funding for literacy and education, and diverted more than 13,000 tons of books from landfills.  Additionally, Better World Books donated 2.3 million books to partner programs around the world including Books for Africa, Room to Read, Worldfund, National Center for Family Literacy, and Invisible Children.
October
JETAADC volunteered with DCBIA's 18th Annual Community Improvement Day on Saturday, October 2, 2010 at the Metropolitan Branch Bike Trail in Ward 5.  15,000 new trees and plants were planted by over 450 volunteers, with an estimated donated value of $750,000 for the materials and labor.  A teaching garden and edible plants were included in the landscaping design.  The formerly overgrown and trash-strewn area now has seating areas, new plants and trees, and the design created a nice addition to the bike trail.
To view local media footage of the event:
Metropolitan Branch Bike Trail at Rhode Island Avenue, NE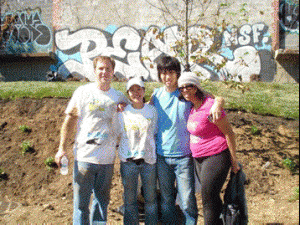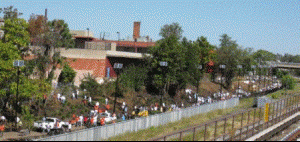 ***
There are numerous ways to get involved in our community and make a difference. Whether you volunteer at a soup kitchen like Miriam's, Martha's Table or DC Central Kitchen; participate in stream cleans with Arlingtonians for a Clean Environment; join a charity walk or run; donate to a book drive; join school improvement projects organized by Greater DC Cares and Hands-on-DC or go outdoors and volunteer with DCBIA's Community Improvement Day; every little effort helps enact change.  As we begin preparing for the Thanksgiving and holiday seasons, I hope you will reflect and consider ways you can pay-it-forward and do something good for your community.
Nikki Lindsay
Volunteer Chair