The new JET class from Washington, DC departs for Tokyo this Saturday, August 3. Each day this week, we'll give you a little introduction to some of these new JETs and check back in with them (and other new DC JETs) throughout the year to see how their first year as a JET participant is going.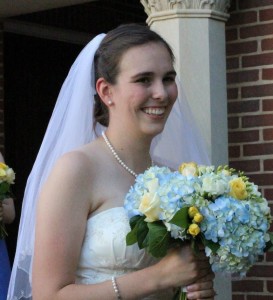 Name: Renata Janney
JET Placement: A Commercial High School in Fukushima-shi, Fukushima-ken
Where I'm from: Boise, Idaho
What I studied and where: US History and Japanese, with a minor in Music at Washington and Lee University in Lexington, Virginia
What you've been up to lately: I graduated May 23 and got married May 25! I've spent the summer working as a research assistant for a History Professor at Washington and Lee.
What are you most excited about? Having my first "real world" job, getting to meet new people, and teaching people about American culture
What are you most nervous about? Biking to work in winter, working the gas heater to get hot water in the shower, and learning the ropes of a Japanese classroom.
What are you most interested in learning while in Japan? I would love to be able to put on a yukata by myself!
What will your last meal be before you leave for Japan?  Right now, I'd have to go with Five Guys.  I haven't completely decided, however.
Japanese food that you're afraid you'll have to eat… Fish with the bones still in it!
Place you're most looking forward to travel while on JET… I really hope I can get down to Kyoto, visit my old host family in Kanazawa, and make it up to Sapporo for the Ice festival!
Congratulations, Renata! 
Did anyone else bring a spouse/significant other on JET? Leave words of wisdom in the comments!

Just joining in? Catch up with other new 2013/2014 JET participants…