The new JET class from Washington, DC departs for Tokyo TODAY! For the final time, here's an introduction to one of these new JETs on their way to Tokyo this morning. Check back in with Bryan (and other new DC JETs) throughout the year to see how JET is going.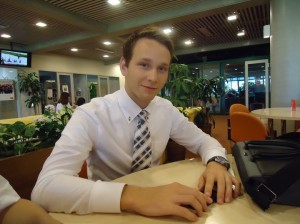 Hello!My name is Bryan Aument, although some people call me BryBry for short or Müller – a last nickname. I have been placed in Yamanashi Prefecure – Tsuru City. It's about 1 hour and 30 minutes west of Tokyo and a short 30 minutes north of Mt. Fuji. Originally, I am from Lancaster, Pennsylvania. It's a small but growing city at 60,000 people. It's also about 15 minutes away from Lititz, PA which was named the coolest small town in the United States by Budget travel 2013. I majored in International Politics (IR) and Japanese graduating just last year from The Pennsylvania State University. Since then I have worked with a company called American Home Life International helping assist Japanese and Spanish exchange students adjust to living abroad in the United States. On the side I also bake cakes as a hobby. Currently my favorite cake to bake is a German baumkuchen cake – otherwise known as the 'tree ring cake' known for it's distinct tree ring pattern when cut.
I was fortunate enough to hear about the JET Programme through a number of current JET colleagues and friends that studied with me at Penn State. Three of those friends span the distance between Fukuoka, Nara, and Hokkaido and shared his and her experiences with me and made the decision to apply for JET concrete. That being said, I am very excited to start off on a new leaf making new intercultural connections, widening my understanding of Japan and learning a new array of skills be it, language, culinary or communication that will project me into my future self.
Before I leave for Japan, I must get myself a double bacon cheeseburger from Five Guys, and fries, they blend perfectly. It comes in a old-school paper lunch bag and when you bite the fry, the fry bites back. Fortunately, I am excited for a changed diet, but that last day in america will be quite yummy and highly anticipated. One place I'm most forward to visiting is Mt. Fuji. I heard the view from the summit in the morning is breathtaking and worth the climb. In all, I am excited for the JET programme and to engage in cross-cultural interactions.
That makes two JETlings who had to go to Five Guys before they left the U.S. What food from home did you crave while on JET?

Just joining in? Catch up with other new 2013/2014 JET participants…