On Friday, December 3 at 7 PM, we will show the ever popular comedy Linda Linda Linda. The film follows four girls as they prepare their band for their final school festival.  Accompanied by a great soundtrack, this film is funny, poignant, and will certainly have you longing for your school festival (and a karaoke box).  Click here to visit the film's official English site.  (Japanese with English subtitles)
On Sunday, December 5 at 2 PM, we will screen The Harimaya Bridge, written and directed by former JET Aaron Woolfolk (Kochi Prefecture).  The Harimaya Bridge is a drama about an American man who must travel to rural Japan to claim some important items belonging to his late son, from whom he was estranged. While there, he learns several secrets his son left behind. Mr. Woolfolk will be in attendance during the screening and will stay to answer questions about his craft and his experiences.   Come see a film the Los Angeles Times calls "a unique, complex, consciousness-raising accomplishment," and Derek Kester of the San Francisco Examiner labels one of the best films of the year.  Click here to visit the film's official site.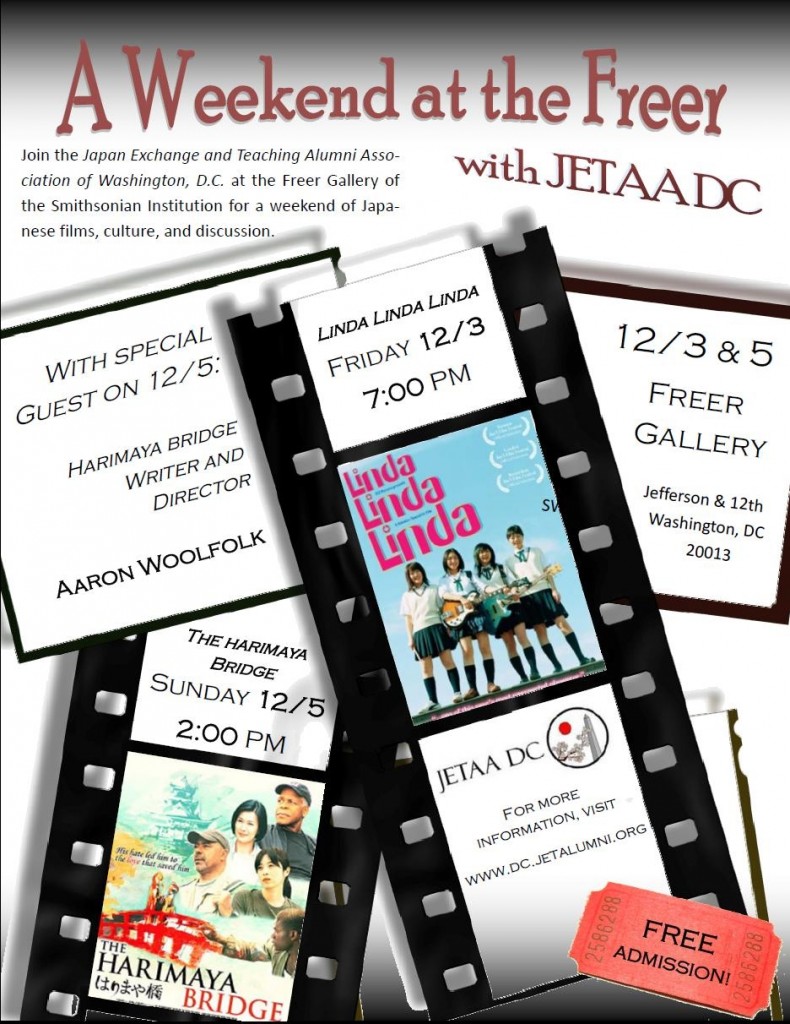 Admission to both films is FREE and open to the public, so please invite others.  Seating in the Meyer Auditorium at the Freer will be available on a first come first served basis.  Auditorium doors will open approximately 30 minutes before each show.
Don't forget to check us out on Facebook.  JETAADC appreciates your support for these events and hopes to bring you more in the future.  We look forward to seeing you there.
Mac Maloney
President, JETAADC
Fukui-ken, 2004-2006