Hi everyone,
I'm calling this post the "Summer Edition," but the fantastic weather we've been having in DC lately would be right at home in the fall. For those departing JETs who are in town before leaving on Saturday for Japan, you should know that you really lucked out! Consider it a nice break from the heat before you face the challenge of teaching English in the humid summer environment of a full Japanese classroom with no AC. 頑張ってね!
JETAADC has been quite active over the last several weeks. There has been something for everyone, with events ranging from a tea ceremony demonstration at Chado Urasenke Tankokai, to volunteering activities at the Safeway BBQ Battle and Kenilworth Aquatic Gardens, to our annual Izakaya Pub Quiz with the Japan America Society of Washington, to this year's first JET Talks covering the high school baseball documentary Kokoyakyu. Whether you are interested in activities that are Japan related or just want to experience something fun in the DC area, JETAADC looks to provide such opportunities for the JET and US-Japan community.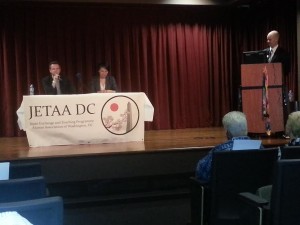 JET Talks Co-Chair Nick Harling with Kokoyakyu's producers Alex Shear and Takayo Nagasawa
This Friday we will be seeing off the 2014 new JET Program participants with a pre-departure orientation and reception. The new JET sendoff is a JETAADC signature event, as everyone gathers to wish the "JETlings" good luck in Japan, reminisce about our time on JET, and enjoy the fantastic venue that is the Ambassador's Residence. And for those of you heading to Japan this summer, please make sure to sign up for JETAADC if you return to the area after finishing JET!
We have a great lineup of upcoming activities in August and the fall, so stay tuned via our website, Facebook Page, and email for event notifications. Some of the things coming up soon include a Happy Hour in mid-August and a volunteering opportunity with the DC Public School's Beautification Day on August 23 (contact the Volunteer Chair for more information). In the meantime, I hope you get a chance to enjoy the great weather we're having and I hope to see you at a JETAADC event!
Ryan Bedford
JETAADC President
Kumamoto JET, 2007-2010