In an effort to better know our members both new and old, we'll be posting a brief introduction to one lucky JETAADC member each month. If you'd like to be featured as our Member of the Month, please contact Kat Kovacs at newsletter@jetaadc.org.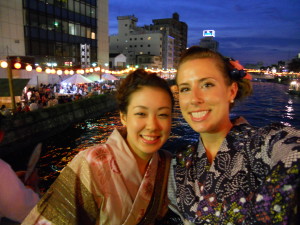 Name: Susan Peavy
JET Placement: Tokushima City (on Shikoku island)
Where I'm from: Yardley, Pennsylvania
What brought me to DC: Grad school – studying global, international and comparative history
The funniest story from my time on JET (that's fit to print!): When visiting Hiroshima, I saw a guy wearing a T-shirt that said "Hiroshima F***ing City." With the small amount of Japanese I knew, I asked him where he got it and how much it cost. In true omiyage fashion, he took the shirt off in the middle of the street and gave it to me. I still have it!
What I miss most from Japan: Karaoke, melon soda floats, the cartoons on the ATM machines, purikura, being babysat by the office ladies during meetings because I couldn't be left alone in the teachers' room (because I couldn't answer the phone), the great friends I made!
The game my classes always went totally crazy for: Typhoon and Mario Kart
Celebrity/historical figure I am convinced that I would be best friends with…if only we could meet: Jane Austen