In an effort to better know our members both new and old, we'll be posting a brief introduction to one lucky JETAADC member each month. If you'd like to be featured as our Member of the Month, please contact Kat Kovacs (newsletter@jetaadc.org) or David Baasch (david@jetaadc.org).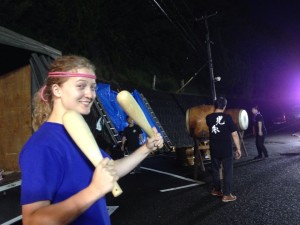 Name: Hayley Schaefer
Nicknames: Hayls, Heiri, Henry(all those silly 6th graders…)
JET Placement: Ena city in Gifu prefecture
Where I'm from: Gainesville, Virginia
What brought me to DC: I've lived near DC my whole life.
The funniest story from my time on JET (that's fit to print!):
I have quite a few funny stories, but this one's pretty good. So I was helping sixth graders clean their classroom when I heard a boy say what I mistook as "te quiero." I went over to the boy to say that I thought he was saying "I love you" in Spanish. The boy turned bright red and threw down his broom, his friends laughing and shouting "te quiero, te quiero" over and over again.
The following weeks, whenever I'd see the boy or his friends, they'd look at me, then to each other and mumble "te quiero" When I would reply the same, they'd all shuffle away embarrassed.
The strangest food I've ever eaten:
Near my town in Ena, one of the famous local foods is hebo, or black hornet larvae. It's very expensive and tastes so weird!!! Plus the texture… yuck. It's apparently very good for you, though!
What I miss most from Japan:
I miss the actual convenience of convenience stores. In Japan, on early mornings or late nights I could always rely on 7-11 to be open and have something to make up a delicious meal. Plus, pre-warmed drinks for winter!! That would be awesome right about now.
The lesson I learned while on JET:
I learned a lot about how much we take for granted living in a country like America.
Despite its flaws, America allows for any kind of person to express themselves freely, regardless of their race of beliefs. Being a foreigner in Japan, you quickly realize how off it feels going to a grocery store and people eyeball you like an alien, approach you for English practice, or shut you down for expressing your opinion. Those sorts of things don't happen as much in America as they do in Japan, and I hope in more parts of Japan people can become more accustomed to seeing foreigners.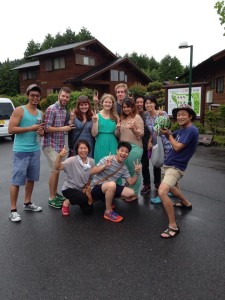 The game my classes always went totally crazy for:
My students always went insane for games involving rock-paper-scissors. One game I made was to walk around with a sheet like for bingo, with questions such as "Can you play baseball?" Kids would go around and do rock-paper-scissors with other students, and then ask the question to mark off the box. Both my elementary and middle school students loved it.
The perfect JETAADC event would be:
A karaoke party! That would be awesome and nostalgic.
I knew I lived in Washington, DC when:
I first went on a field trip to the National Mall.
Celebrity/historical figure I am convinced that I would be best friends with…if only we could meet:
I'm definitely sure I'd be best friends with Robert Downey Jr. We'd go fishing and stuff, it'd be awesome.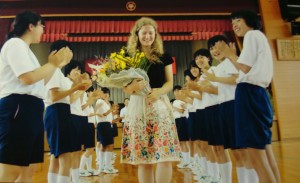 Where you'd find me on the perfect weekend:
Drawing manga at home, drinking some hot cocoa and listening to The Pillows
The person I would choose to play me in a movie is:
Probably Jennifer Lawrence
Who is your favorite Japanese TV personality?
I'm not sure about TV personality, but I do love the voice/stage actor/idol Mamoru Miyano! He's adorable and does voice acting in almost every movie and anime dub you can imagine
What Japanese word or phrase do you still find yourself saying in the US?
"tatoeba?", meaning "for example?"
What were your favorite places to have visited in Japan, and which places would you like to go back to visit?
I rode my bike on the Shimanami Kaido from Hiroshima prefecture to Shikoku this past spring. It was an amazing adventure. You cross along five islands and the experience is unreal. I got a small taste of Shikoku itself but I would love to have a chance to visit again. I also want to go to Hokkaido someday for the snow festival in Sapporo.
What is the best Japanese restaurant in DC (in your opinion)?
I'm not sure about DC, but I love the restaurant Sushi Yoshi in Vienna, Virginia. The owners and patrons are mostly Japanese, so it's a fun place to practice speaking. Also, because of its authenticity, I was able to order something off-menu (Oyako-don) and they made it for me! The food and service are awesome, go check it out!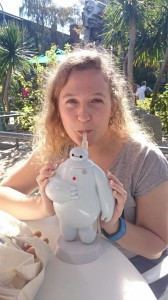 What is the most memorable moment of your JET Career that you would love to live again?
Moments when my students learned that I liked the same things as them, like tv shows or anime, and the fact would blow their minds. Sometimes they remembered things I liked and would come up to talk with me about them. They also would draw me pictures of anime or musicians I liked. I loved the simple friendships I made with students that made me understand how similar and human people from different countries and cultures can be. I'd love to experience that again.
Two truths and a lie:
 My favorite season is fall
I hate natto.
I have been to a Vegas wedding
The question I'd most like the next Member of the Month to answer is:
What was your reaction to learning about your JET placement?