In an effort to better know our members both new and old, we'll be posting a brief introduction to one lucky JETAADC member each month. If you'd like to be featured as our Member of the Month, please contact Kat Kovacs at newsletter@jetaadc.org.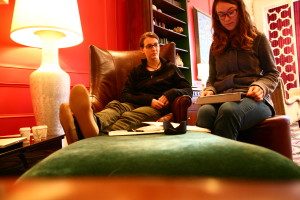 Name: Chelsea Reidy
JET Placement: Ehime, 2009-2012
Where I'm from: Guam
What brought me to DC: Two things. One. My mother lives in the area and it has been a while since I've had extended time with her. Two. I needed a place to work on this illustrated book project: (bigricefield.com).
The funniest story from my time on JET (that's fit to print!): During one of my first few days at school I walked out of the restroom with the toilet slippers still on my feet. I completely forgot to take them off. I walked down the hallway thinking that all the commotion was still because of my long blond hair. Silly me.
What I miss most from Japan: The people. The green mountains. The blue mountains. The people.
The game my classes always went totally crazy for: The Let's Watch a Movie game.
Two truths and a lie:

I have tattoos of tropical fish up my back.
Once, while I was ocean swimming, three sharks came up along side me and circled me for awhile.
My glasses got run over by one of those small white Japanese trucks.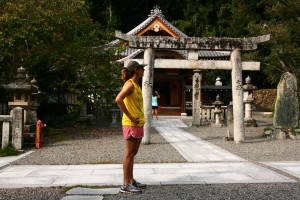 Get a preview of Chelsea's project to walk the 88 temple pilgrimage route and create 88 hand-bound, illustrated books here. Chelsea's kickstarter page launches this Saturday, August 10 — sign up for a reminder email here.
(Pssst. Did you miss our first Member of the Month? JETAADC, meet Andrew.)