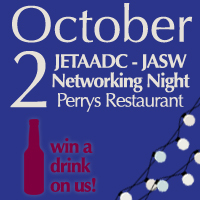 Join JETAADC and The Japan-America Society of Washington, DC (JASW) at our Networking Night:
Wednesday, October 2, 5:30 – 7:30 pm
Perrys Restaurant
1811 Columbia Road NW
Washington, DC 20009
Nearest Metro: Woodley Park or Dupont Metro Stations
RSVP by Tuesday, October 1 at http://bit.ly/16mQgR4
 Bring your business cards, enjoy the beautiful sunset from Perrys' famous rooftop, and meet people with the same interest in Japan.
Chef Tetsuya Nakata from Perrys has designed a special Happy Hour menu for our event, which includes their famous Sushi Rolls, Lemon Shochutini, Kirin, Perrys' Non-alcoholic Orange Blossom Lemonade and more. And we want to buy your first drink!
We've come up a few pre-Networking Night questions about your fellow JETAADC members (all answers can be found on the JETAADC website – cheating encouraged!). Submit your answers by Monday, September 30 at midnight and you will be entered into a random drawing for a free drink ticket (up to $5 value).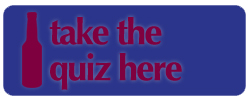 Contest Rules:
ELIGIBILITY
You must register for the JETAADC & JASW Networking Night by Tuesday, October 1 in order to attend and be eligible to win. All JETAADC & JASW Networking Night attendees can participate.
HOW TO ENTER
Answer all four  questions and enter complete contact information by this Monday, September 30 at midnight. Only one entry per person.
WINNER SELECTION
All correct entries will be collected on Tuesday, October 1; a winner will be selected at random. We will notify the winner in advance, but you must collect your drink ticket in person at the Networking Night.
QUESTIONS
Contact newsletter@jetaadc.org if you have any questions regarding this contest.
See you at Perrys Restaurant on October 2!