We are pleased to present our next JET Talks event, featuring former JETs Chelsea Reidy and Elayna Snyder who will discuss their successful illustrated book project"Temple by Temple" and their pilgrimage route around Shikoku. The talk will take place in the evening at Georgetown University on Wednesday, January 29, 2014 with more details to follow.
Click on the "join us" graphic below to access the registration form for this event: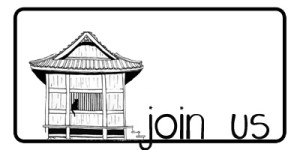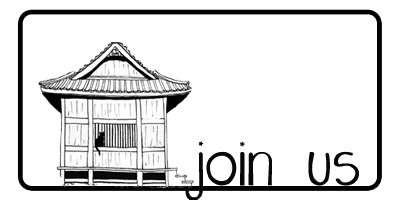 Chelsea is from Guam. Elayna is from Michigan. At Kalamazoo College, Elayna spent most her time in the darkroom and ceramic studio. While studying abroad in Kolkata, India, she slept under a mosquito net, learned to eat with only her right hand, and did charcoal sketches in her bed every morning. Chelsea hopped from community college in Hawaii, to the US Naval Academy in Annapolis, before graduating from the University of Guam. There were military obligations, physics, and chemistry at Annapolis; ocean swimming and surfing in Hawaii and Guam.
They both went to Japan in 2009 and met while teaching English in Ehime, Shikoku. Now they are living in Frederick, MD painting an old Victorian house, going to auctions, and turning the shed into a darkroom while they work on figuring out how to make a living through their creative projects.
JET Talks is a speaker series modeled after TED Talks that will feature dynamic and interesting individuals to inspire innovative ideas and conversation on Japan within the DC community.