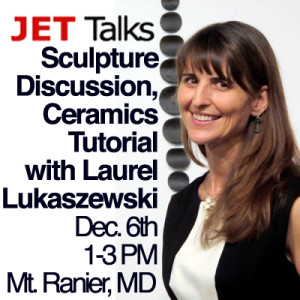 On Saturday, December 6 from 1:00-3:00 PM, join JETAADC as we travel to White Point Studio, home of nationally exhibited artist and JET Alum Laurel Lukaszewski (Kagoshima-ken 1990-1992) for a JET Talks discussion on sculpture followed by hands-on ceramics lesson that will allow you a chance to create your own holiday ornament.
Laurel's work as an artist is broad and diverse, with most of her installations and sculptures composed primarily from clay, usually porcelain or stoneware. The interrelation of Laurel's works has roots in her study of Japanese art and culture in graduate school…and a habit of incessant doodling. Her works range in size from just a few inches to works that fill a gallery, and have been exhibited in venues across the country including Washington, D.C. New York, Miami, Houston, Santa Fe, and Seattle, among others.  Visit her website for more information on upcoming exhibitions: www.laurellukaszewski.com.
Following the discussion, you will get a chance to make your own holiday ornament, which will be "fired" during the week, and available for pick up during White Point Studio's open house onSaturday, December 13 from 12:00-5:00.   
This experimental JET Talks will be limited to the first 15 people who sign up!  The fee for this JET Talks will be $10, which will cover materials.