On July 22, 2014 JET Talks kicked off with a film screening of Kokoyakyu: High School Baseball held at the JICC (Japan Information and Culture Center) in downtown DC. The documentary deals with one of the most beloved and watched sporting events in Japan: the annual Summer Koshien baseball tournament.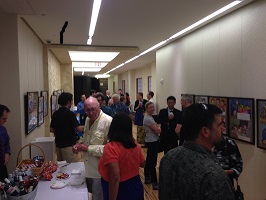 Organized by our JET Talks chairs, Maurice Maloney (Fukui-ken, 2004-06) and Nick Harling (Mie-ken, 2001-03), the film screening was preceded by a reception that would not have been out of place at a baseball stadium: beer, soda, peanuts and cracker jacks!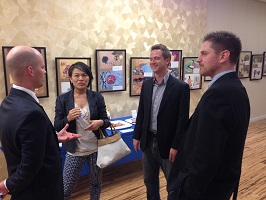 The film itself follows two high school baseball clubs, one private and one public, as they make their way through the run-up to the tournament. In just under an hour, the film captures the energy and dedication of these young athletes.  The drama of the games, which are elimination style (one strike, you're out), brings out a rare display of intense emotions in both the players and spectators. Even participants who don't bat, pitch, or run train hard. As one player comments in an interview, "I hear [our] cheer squad practices even harder than we do."
After the screening, Nick, JET Talks Co-chair and creator of the Let's Talk Japan Podcast, held a discussion and Q&A with two of the producers, Mr. Alex Shear and Ms. Takayo Nagasawa. They covered topics from the challenges of making the film, the appeal of Koshien in Japan, the different attitudes in the U.S. and Japan towards the sport, and even gave updates about some of the players and coaches. You can listen to the discussion here.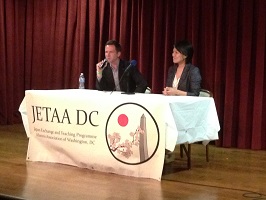 Summer Koshien is often said to be more popular than pro baseball in Japan; after watching this film it is easy to understand why. The players aren't swinging or pitching for contracts, merchandise deals, or to break records. They play as a team to win and the tears of joy and disappointment are genuine. It is a real life drama that resonates deeply with viewers; even non-baseball fans find Koshien compelling. Ms. Nagasawa, who did not know much about baseball prior to making this film, commented that even though she helped create it, each time she watched it, tears would well up in her eyes.
For both fans of baseball and anyone curious about this unique part of the larger phenomenon of baseball in Japan, Kokoyakyu: High School Baseball is a must-see!
—
JETAADC would like again thank Alex Shear and Takayo Nagasawa for attending and giving wonderful insights into their film.  Thanks also go to: Maurice and Nick for organizing, the volunteers who helped, and the JICC for providing the venue.  Finally a big thank you to everyone who came out!
More information about Koshien in English can be found at yakyubaka.com.  The 2014 96th Summer Koshien fifteen-day tournament will begin on August 9. 
The film is available on DVD for purchase through such outlets as amazon.com.  It can also be viewed online for free through services such as Hulu and Vimeo.  Further information about the film can be found at PBS.