This year JETAADC took part in Safeway's annual BBQ Battle, a Beltway cookoff attracting barbequers from across the country to show off their grilling skills and contribute to a good cause. A portion of the proceeds are donated to the Boys and Girls Club of Greater Washington and other charities (this year the Wounded Warriors Project was also a recipient).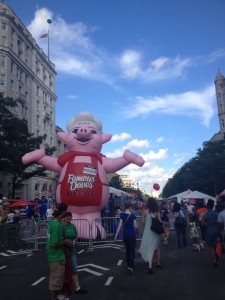 JETAADC sent 8 volunteers to staff one of the festival's beverage-serving stations: Leigh Ann Mastrini, Cynthia Hawkins, Kat Kovacs, Christina Brady, Joanna Blatchly, Sachiko Tsunoda, Ryan Bedford, and Paul Schuble.
In addition to serving up drinks like pros, we had a chance to partake in grillicious dishes and samples, and had the good fortune of being situated right across from one of the performance stages. It was a great time, and we're looking forward to next year!