On 2/23, the last Sunday of the month, JETAADC took part in the monthly seating for Karma Kitchen, a "pay-it-forward" type initiative aimed at fostering a spirit of generosity and community. Hosted by Himalayan Heritage in DC, Karma Kitchen utilizes volunteers to serve food to guests who are not asked to pay for their own meals, but instead asked to contribute whatever they can toward paying for the meal of someone after them. Karma Kitchen operates in several cities and just last year expanded to Tokyo.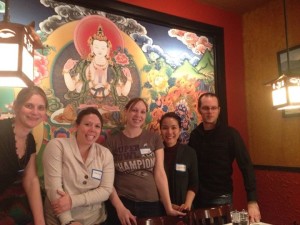 It was a fun and interesting experience. Thank you to the Karma Kitchen core volunteers and JETAADC members who came out!
Learn more about Karma Kitchen here. To date, Karma Kitchen's chain of gifts has lasted for 41,771 meals with volunteers logging 33,671 hours. You can add to the chain of gifts by eating lunch at Karma Kitchen on the last Sunday of each month from 12noon – 3pm at their DC location (Himalayan Heritage Restaurant, 2305 18th Street, NW, Washington, DC). Or sign up to volunteer here.