On Saturday, 2/21, a group of JETAADC members and friends visited the Catholic Charities warehouse in Hyattsville, MD, to help pack breakfast bags for the Cup of Joe Program. Cup of Joe provides breakfasts to people staying at Charities shelters in the area. On Sunday, we and the other volunteers put together 4,500 bags!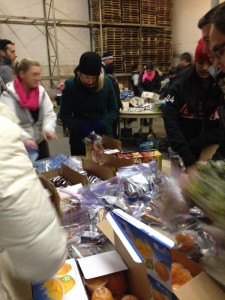 It was a cold day, but it was fun to talk of ごみわけ (gomi wake) and our Japan-related experiences while assembling the simple meals.
A big thanks to everyone who came out to help!