Cinco de Mayo 2013 fell on a gorgeous Sunday this year – the perfect setting for a Grown-Up Field Day event sponsored by Yachad DC, a local community-building charity organization. JETAADC came out to represent, jinbeis and genki at the ready. "Team J," made up of Ryan Bedford, Joanna Blatchly, Sara Haider, myself (Paul Schuble), and Joel Zara, competed in a variety of  home repair-themed, team events.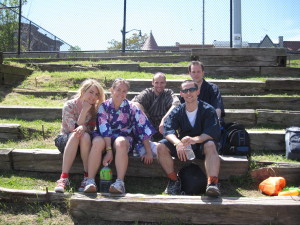 There were a number of different relays, including  paint can pyramid building, an obstacle course, and clothing, apparently. Thanks for biting the bullet on that one, Sara! Team J hit its stride with the sponge relay, where we proved especially adept at transporting water by, yes, sponge. Woot!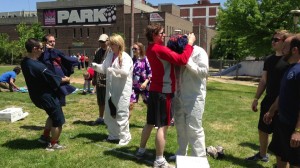 After all the running and a nice, big game of Capture the Flag, teams were treated by sponsoring bars to discounted beers. We also received some free guacamole and hibiscus-flavored ice pops. A good time was had by all.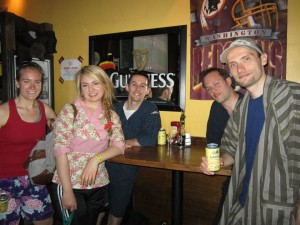 The proceeds (raised by team registration fees) of the event will go towards Yachad's community revitalization and low income housing efforts. JETAADC was proud to be a part of a great charity event.
-Paul