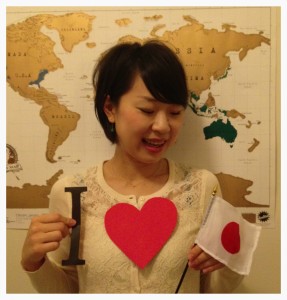 Yui Itokawa and Joel Zara, our current JETAADC Social Chair, met in Japan in 2008 while Yui was a JTE and Joel was on the JET Program in Chiba-ken. They now are married and living in Washington, DC where Yui works at the JET Office at the Japanese Embassy and contributes to our I <3 Japan series.
It's March already, but this cold weather does not seem to go away. This extended winter makes me so nostalgic about Japanese winter-friendly items such as nabe, oden, kotstsu…but I can never get over the dream of having this thing at home: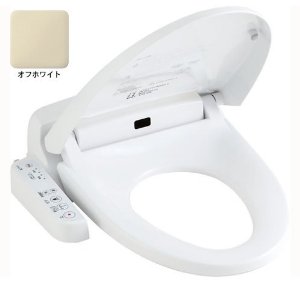 Those who have experienced so-called "shower toilets" in Japan, I'm sure you had some difficult times getting back to sitting on cold toilet seats in winter back in the US. But how much do you actually know about Japanese toilets? They not only wash your bottom, but they also have amazing functions. As the daughter of the former Project Manager of the second biggest Japanese toilet company, I feel obligated to tell you everything about the latest Japanese toilets' awesome features and functions which will blow your mind. Yes, this time I <3 Japan is I <3 Japanese toilets.
1. No Tank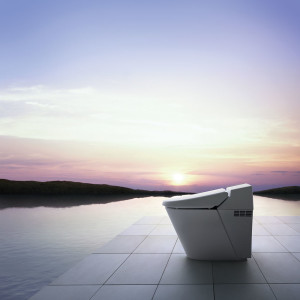 There is no more bulky toilet tank. Everything is compacted and this stylish shape harmonizes with any simple-modern life styles. Look at this picture, it's so beautiful and natural the toilet sitting on a lake having a sunset behind…
2. Color Variation
The era of white toilets is now over; you can now choose your toilet from different color options. Choose your color wisely, and have a great toilet life in style.
3. Automatic Functions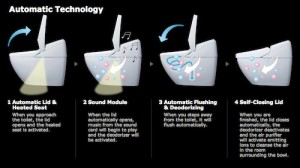 Cover / Music / Plasma Cluster. It is not surprising that everything about toilets is now automated. You don't even have to touch and open the cover any more and this easy listening music makes your life even more comfortable.
4. Bluetooth function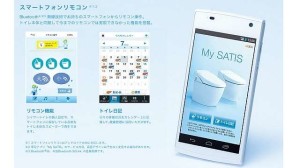 This really blew my mind. You can now connect your smart phone with the toilet! Yes, smart toilet! Use your smart phone as a remote and operate the smart toilet as you like.
This smart phone app even has a calendar function to monitor the details and frequency of your movements. It is apparently important to keep a record….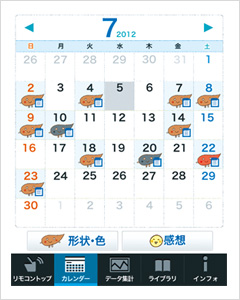 OK, I think this is enough. I am Japanese, but even I got weirded out by some of those functions. I will, for now, just stick with a standard toilet. (Maybe with a fabric toilet seat cover.)
Enjoy the rest of winter while it lasts and stay warm!