David spent his time on JET as an ALT in Shintotsukawa, Hokkaido from 2008-2013 before returning to his native Maryland.  He currently works for the Embassy of Japan in Washington, D.C.
It is officially Cherry Blossom Festival Season, although it seems someone forget to let Spring know… Frigid weather notwithstanding there are a lot of great Japan-related things that are happening all over DC.  If you've been missing your time in Japan lately, this is a good opportunity to reconnect!
What I was an ALT, this time of year was always exciting.  In addition to the teacher changes, the JHS 3rd years were graduating and going off to high school while a new batch of little ones were just starting their lives as Ichi-nensei's at the elementary school.  But in the midst of thinking about the cherry blossoms and entrance/graduation ceremonies I realized that there is another "big" event that is going on in Japan now.  One that probably many of your former students are going through at this very moment: shukatsu (就活).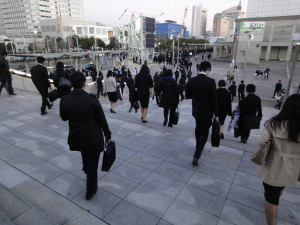 You may be familiar with shukatsu, short for shushoku katsudou (就職活動), or job-hunting.  Specifically I am talking about the time in a university student's life where they don their black suits (maybe dye their hair black?), attend job fairs, and interview with companies all in the hope of winning the coveted naitei (内定) or job offer with a good employer.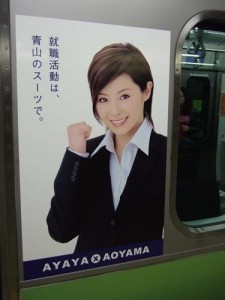 Getting a naitei before graduating is desirable because companies tend to hire new employees all at once (shinsotsu ikkatsu saiyo, 新卒一括採用) and fresh graduates are favored over recent graduates (i.e. 1 year or more out of school).
Since the start date for new employees in most major companies is the beginning of April, a student would ideally get the naitei long before graduating.  This means starting the job-hunt very early, sometimes as early as the autumn of their junior year of college.  There are job fairs to attend, applications to submit, tests to take, and dozens and dozens of interviews where you need to demonstrate your genki-ness and fighting spirit.

Although the official start date when companies can start carrying out some of these activities is supposedly coordinated, many are afraid to lose out on promising talent and try to tap potential recruits earlier sometimes called aotagai (青田買い, lit. "buying the green field" i.e. before the harvest is ready).  By the time April rolls around, many seniors have already started their first round of tests and interviews which can continue well into the summer.
This means a student's final year at university may be more devoted to the job hunt than to their academics, much to the chagrin of their professors.  All in all, it can be a very stressful time for a student with a lot of emotional ups and downs.  The video below, created by Maho Yoshida of the Tokyo University of Arts, vividly depicts the experience in this beautifully animated short called "Recruit Rhapsody":
Video credit: All rights and credit belong to the creator Maho Yoshida (http://blog.goo.ne.jp/damaho)
Finally, on the topic of job-hunting: thanks to our Professional Development Chair, Emily Orr, JETAADC has invited Senior Federal Recruitment Advisor with the Recruitment Policy and Outreach (RPO) section at the Office of Personnel Management (OPM) Todd Floersheim to give a virtual workshop on how to write your federal resume,on April 1, 6:00 – 7:30 P.M.  Whether you are currently in shukatsu mode or not, this is a fantastic opportunity to get a handle on how to navigate federal job announcements (including those cryptic numbers and letters) and tailor your resume to each job.