Yui Itokawa and Joel Zara, our current JETAADC Treasurer, met in Japan in 2008 while Yui was a JTE and Joel was on the JET Program in Chiba-ken. They now are married and living in Washington, DC where Yui works at the JET Program Office at the Embassy of Japan and contributes to our I <3 Japan series.
Everyone seems crazy about running in Washington DC, there are runners everywhere even in this freezing cold weather and I am no exception. I don't consider myself a super serious runner but I do enjoy running. I have participated in a number of races in DC like Rock'n Roll USA, Cherry Blossom 10 miler, Capitol Hill Classic 10k, Jingle All the Way 8k, Electric Run, Rugged Maniac, Navy 5 miler…you name it. Races are like festivals, it's so fun seeing people dressing up in costumes and being a part of it. I simply like the atmosphere of each race I have run.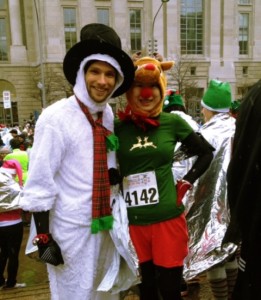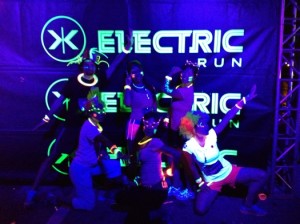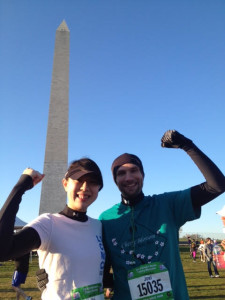 Just like there are many unique races in the US, Japan also provides unique, or I should say very local, races.  In the shadow of big races like Tokyo Marathon and Nagoya Women's Marathon, small local races are slowly but surely gaining people's attention. As many JETs know, real good things about Japan are often found in tiny unknown inaka towns. Here are some Japanese races I would like to share with you today.
 1. Tomisato Suika Road Race (Tomisato, Chiba)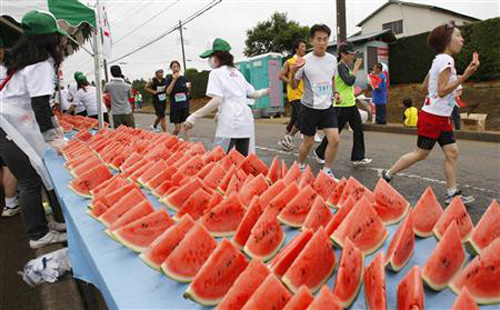 http://www.tomisato-suikaroad.jp/(Official HP)
Tomisato-city is very famous for being a big watermelon producer. To promote their high quality watermelons, this race has no water station but "watermelon stations". You can cool your parched throat with sweet delicious watermelons. The race will be held on June 21 this year and the registration begins on March 1. It's so popular that they have a lottery system, so you have to be lucky to get in! (I tried once but didn't get selectedL)
 2.  Tanno Curry and Rice Marathon (Kitami, Hokkaido)
http://www.city.kitami.lg.jp/docs/2012042000038/
You don't like competitive races? Then Tanno Curry and Rice Marathon is for you. You form a team of four and each runner runs to get a designated ingredient. Curry roux (5km), meat (4km), onions and carrots (3km) and potatoes (2k walk). Then you make curry with everyone after the run. The goal of this race is not running fast but to make delicious curry with your team mates. If your team mate gives up running, you might have to make curry without roux. That doesn't sound very tasty. There is a post-race eating contest for those who have more room. Each team also gets 10kg of assorted potatoes and onions for only a 4000 yen participation fee (as a team). It's a sweet deal.
3. Gourmet Marathon (Minamiuonuma, Niigata)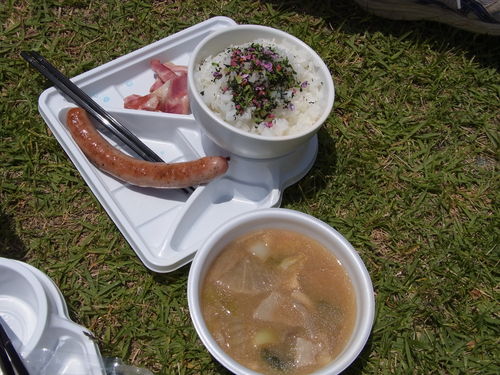 http://gurumara.com/ (Official HP)
You are a competitive runner but food sounds also tempting? You should try Gourmet Marathon. Their half marathon and 5k races give prizes down to the first six finishers but even if you don't finish within the top six, you can still get to eat Minamiuonuma's fresh rice all-you-can-eat. Using the given original rice bowl, just go around the post-race party site to get some okazu to go with it and make your empty stomach happy. Beer? It is also available at the site.
4. Ningen Shiodashi Kombu Marathon (Shonan, Kanagawa)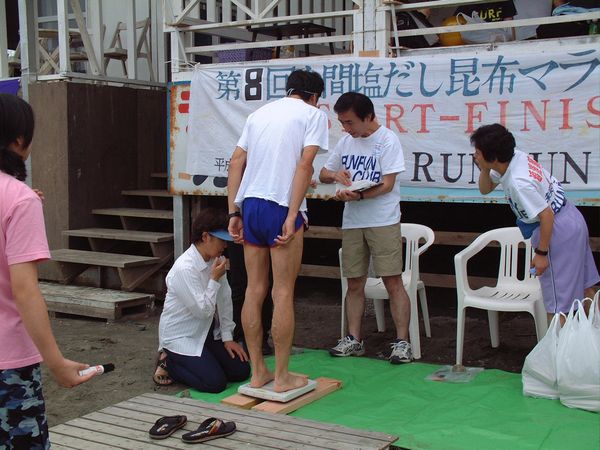 http://portal.nifty.com/kiji/130731161313_1.htm(Personal blog)
I guess I talked a bit too much about eating rather than running. Let's get back on track and focus on the healthy side of running. Some people run for the purpose of losing their weight. This race is a perfect fit for any individuals who are on a diet. Time does  not  matter but your weight does. All you have to do is lose as much weight as possible during the race. You think losing weight by running just 5k is impossible, right? That's why this race is held in August. Imagine, summer in Japan in August. Yep, you will sweat a LOT.
 5. Oshidori Marathon (Umaji-mura, Kochi)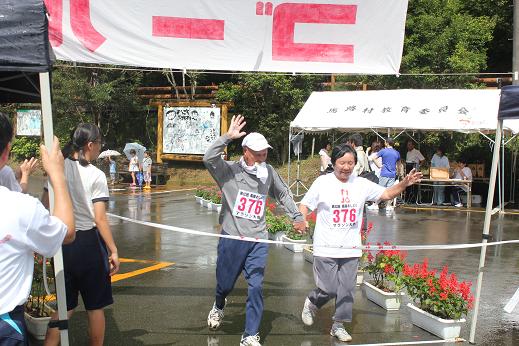 http://kounankankou.blog119.fc2.com/blog-entry-2313.html(Personal blog)
Your significant other is also a runner? Then how about running Oshidori Marathon in a tiny village in Kochi, Umaji? "Oshidori" means lovebird in Japanese. There is only one rule applied to this race; to finish with your partner hand in hand. There are also prizes for the oldest and youngest couples for their combined age. The great thing about this race is not only its concept but also its hospitality. A 5000 yen participation fee for a couple includes: the race, two boxes of bento, two onsen tickets, an assorted package of local products (yuzu is Umaji's speciality), all-you-can-take yuzu, all-you-can-drink yuzu juice. Seems like there will also be a pre-race party the night before, starting from this year.
Whether or not you are a runner, I hope you found interesting races in this article to consider for the future.  If you know any other unique races around your JET placement, please don't hesitate to share in the comments! I am also always open to any new races in the DC area! Run and be happy, everyone.