We are very excited to announce the details for our JETAADC Hanami (Cherry Blossom Viewing) and Fireworks event next Saturday, April 5th!
Join us this Saturday for a wonderful hanami/picnic under the cherry blossoms at the Tidal Basin as we eat, drink, and take in the breathtaking beauty of the blossoms. Following our picnic, we will be heading to the Southwest Waterfront for the official National Cherry Blossom Festival Fireworks Festival where there will be music, food, and of course, fireworks! To top it all off, we'll have some giveaways for attendees! So what are you waiting for? Come out and hang out with us on Saturday!
JETAADC Hanami and Fireworks
Saturday, April 5th at 2pm
Where to Meet: Meet us by the Tidal Basin Paddle Boat area, across from the Snack Booth (please see attached map for a visual, and please excuse the amateur nature of the sketch!) We will be holding a "JETAADC" sign.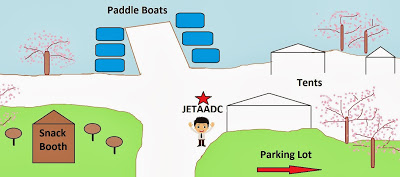 What to Bring: Bring food and/or drinks to share (or your own), something to sit on, frisbees, kites, or any other fun items, and of course, your excitement for the cherry blossoms!
Who Can Attend: All JETAADC members, Friends of JET, Families, and Significant Others
Once you arrive at the paddle boat area, one of our members with a"JETAADC" sign will escort you to our picnic area. (If you are lost or cannot find us, please call Sara at 703-307-8407 or Joel at 202-255-3077)
Let everyone know your coming on the JETAADC Hanami and Fireworks Facebook event.