The December meeting of our slapdash Japanese themed book club, JBook, is just around the corner! Join us for dinner, fire and a lively discussion of Japanese-American mystery writer Naomi Hirohama's Snakeskin Shamisen, one of NPR's Crime in the City picks.
The Discussion: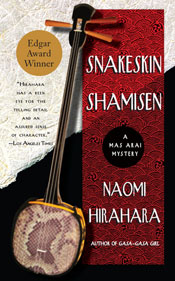 Date: Monday, December 13, 2010
Time: 7:00 pm
Place: My abode in the Adams Morgan/Dupont area
1636 Beekman Pl NW (just off 16th Street across from Meridian Hill Park)
The Description:
From Publishers Weekly
In youth-obsessed Los Angeles, maturity and reticence work in favor of the 70ish gardener Mas Arai, Hirahara's reluctant hero, as he gets drawn into his highly enjoyable third mystery (after 2005's Gasa-Gasa Girl). Mas leaves a party held for a friend at a Hawaiian restaurant early, but when the guest of honor turns up dead, Mas has to return to the restaurant to answer questions about anything suspicious he might have observed. A broken shamisen (a stringed instrument similar to a banjo) found at the crime scene, he realizes, indicates that the seeds of the murder were sown in Okinawa during WWII. As a Hiroshima survivor, Mas has his misgivings about examining the past too closely, but his strong sense of right and wrong propels him toward a just resolution. Hirahara's sharp ear for dialogue and keen sense of place mark this as a superior read, but it's her intimate view of the Japanese-American community and her wry portrait of the endearing Mas, with his fondness for gambling and Spam, that really make this series stand out.
Please let me know if you are interested in attending or have questions. As always, everyone is welcome!
Happy Reading,
Jillian Van Ells
Akita '00-'02