March JETAADC Happy Hour
Thursday, March 19, 5:30 – 8 pm
Spider Kelly's (3181 Wilson Blvd, Arlington, VA 22201)

Enjoy drinks, food, and games with JET alums and friends of JETs.

No need to RSVP — just make your way to Spider Kelly's on March 19 and look for JETAADC signs.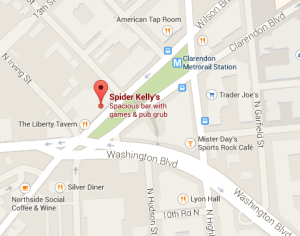 Like to plan ahead? Take a look at the menu here.
Spider Kelly's is located two blocks west of Clarendon Metro stop on the Orange line.
There are also nearby garages and street parking.