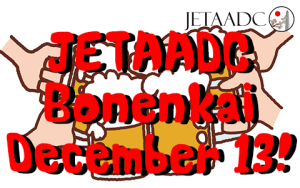 IF YOU ALREADY SIGNED UP YOU ARE CONFIRMED FOR BONENKAI – NO MORE SIGNUPS WILL BE ACCEPTED AT THIS TIME.
Enjoy friends, food, drinks, and games at the always wonderful Tono Sushi.
We will also be collecting cans for the Capital Area Food Bank. If you forget to bring cans stop by the CVS around the corner from Tono and pick up a few! (a list of preferred items can be found here.)
Tickets: $25 in advance, $30 at the door
Friends of JETs welcome with ticket.
Please register for the event by Sunday, December 6th by selecting one of the following:
Deadline extended to Thursday 12/10.
---
When: Sunday, December 13th from 5:00 PM to 8:30 PM
Reception hour at 5:00 PM, dinner starting at 6:00 PM.
Where: Tono Sushi, 2605 Connecticut Ave NW, Washington, DC 20008 ( Nearest Metro: Adams Morgan-Woodley Park | Red Line )