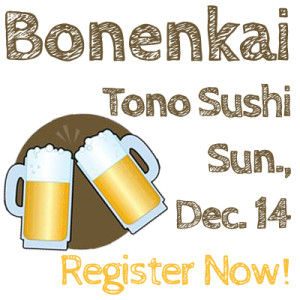 Get your tickets for our most popular JETAADC event of the year, Bonenkai!
Enjoy a night of food, friends, games, and prizes at DC's fabulous Japanese restaurant, Tono Sushi.
We'll also be collecting cans for the Capital Area Food Bank, so show your support by bringing a few items to donate (a list of preferred items can be found here.)
When: Sunday, December 14th from 5:00 PM to 8:00 PM
Reception hour at 5:00 PM, dinner starting at 6:00 PM.
Tickets: $20 in advance, $25 at the door 
Price includes one reception drink, sushi, and dinner – including more vegetarian options this year by popular demand!
Where: Tono Sushi
2605 Connecticut Ave NW, Washington, DC 20008
The closest metro stop is the Adams Morgan-Woodley Park Metro Station.
Friends of JETs welcome with ticket.
To register and purchase your ticket(s) at the door ($25 per ticket), please complete this form.